If you've ever had to deal with a slow website then you know the pain. In this post I'm going to share with you how to get blazing fast web hosting. This is very important not just for your website visitors, but also to ranking your website in the search engines.
I'm going to share my GT Metrics with you before and after I switched my own web hosting service.
How To Instantly Make Your Website Faster
One of biggest key factors to having your website load faster is your hosting service. Trust me when I say this… Some web hosts SUCK!
Godaddy…. achoo!
Seriously, I had Godaddy for years as a hosting platform and would never recommend them.
Here's why…
Until last week when I made the switch, I thought my website was slow, because, well, it was just slow.
I didn't realize that the second I would switch my hosting service, my page load times would become BLAZING FAST.
Don't believe me? I'll prove it!
Book mark this page, click around to other pages on my website and watch how fast they load (I'll spill the beans of how to do that in just a sec).
The Secret Formula To A Fast Website
Are you ready?
Well, to be honest there's a couple of things, but here's the MOST IMPORTANT…
Get A Better Hosting Service!
Here's My GT Metrics, which may surprise you.
This was with Godaddy AND this was really fast for my website. It would usually load in about 8 or 9 seconds.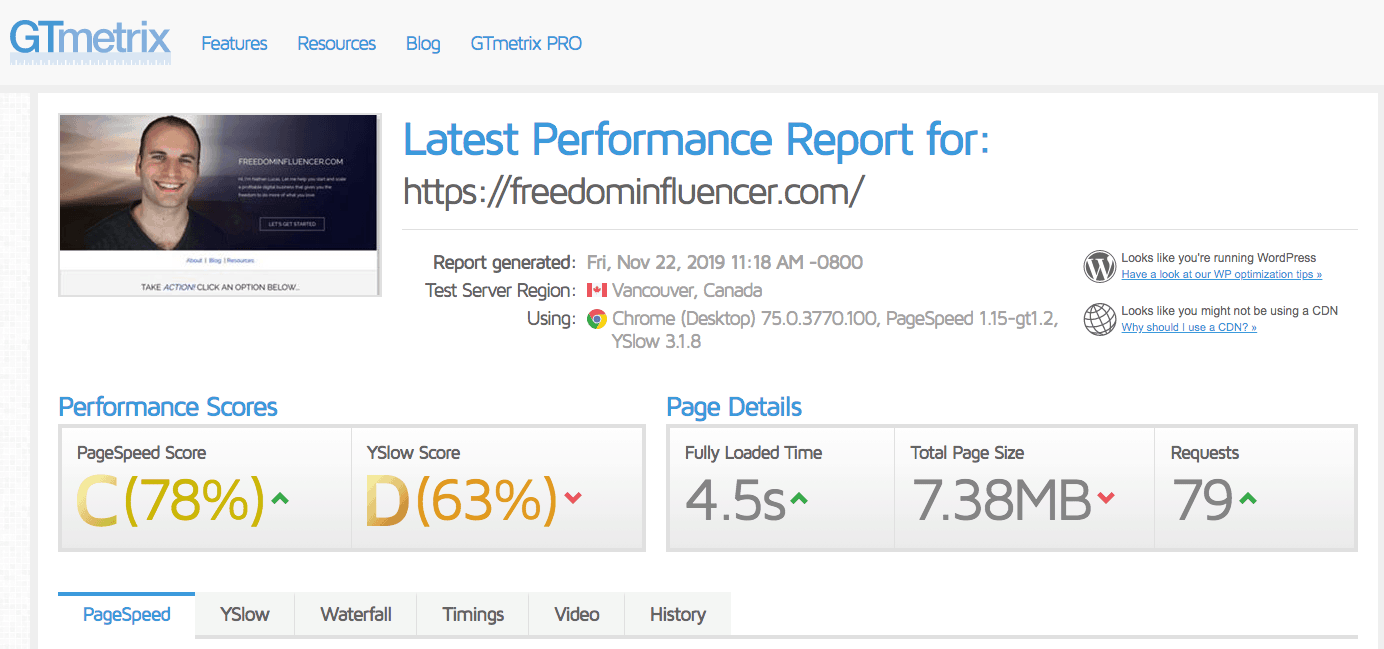 This was with SiteGround AND this was Slow for them. I noticed my pages loading faster IMMEDIATELY. Even though this load time says it was longer than Godaddy, it loaded faster by far. Not sure why GT Metrics was showing it as slower.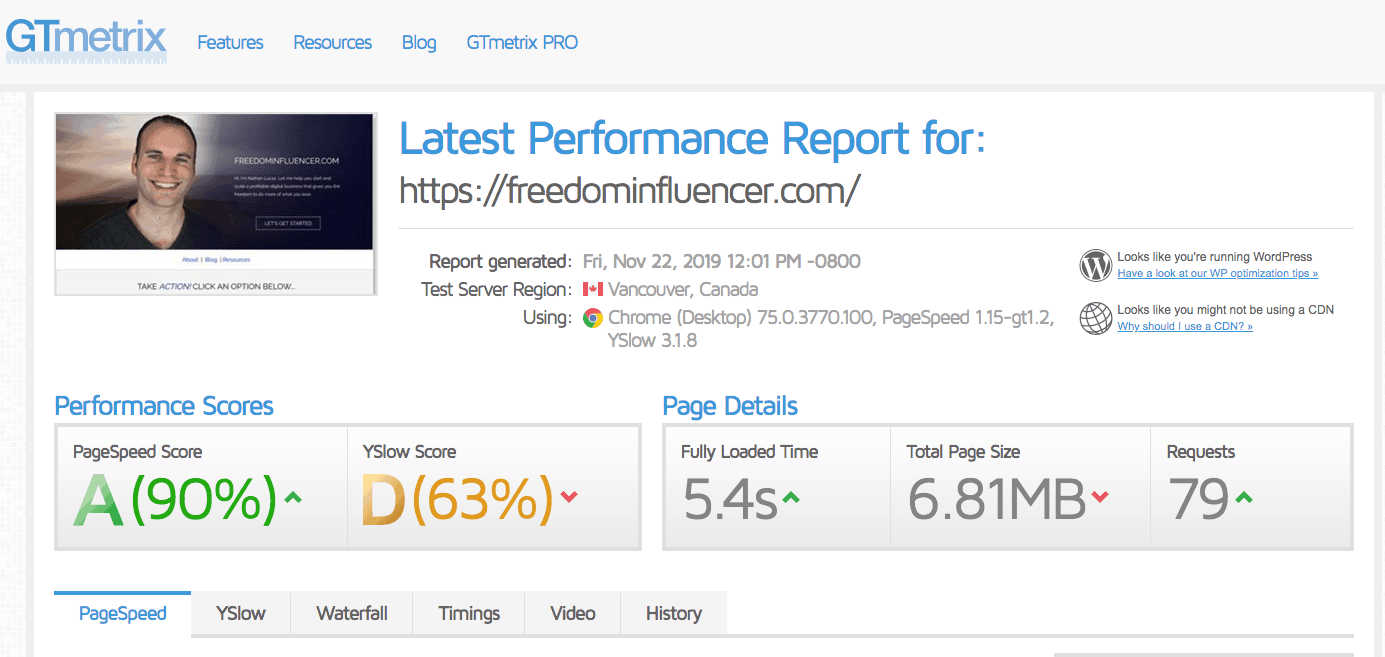 AND here's the secret sauce. This is with WPX Hosting. After moving my website over to WPX my website has become blazing fast. I would venture to say they're the fasting hosting company out there.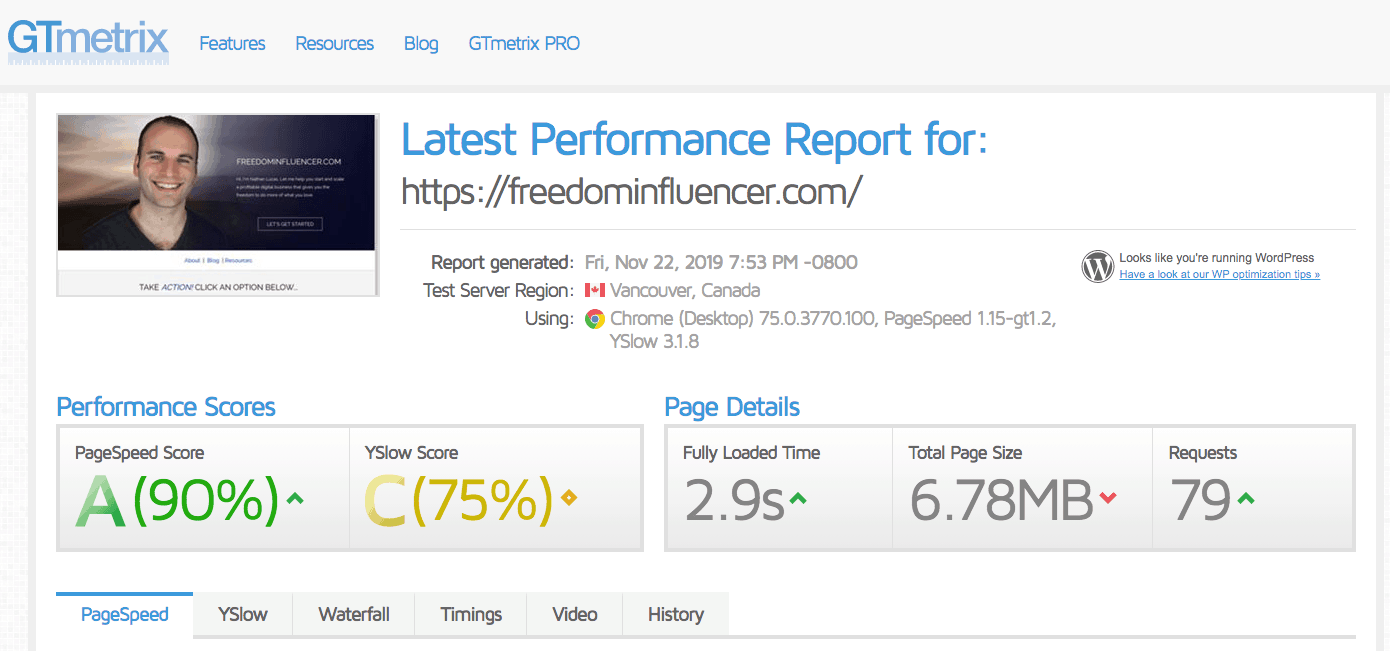 The Relief Of Faster Hosting
If you're like me and use your website for business, then having a slow website is unacceptable. As a matter of fact, I went way too long without upgrading my hosting service, just because I thought "Slow was normal".
Well, It's NOT!
If you want to get discovered in search, grow your blog and make more sales, YOU NEED FAST HOSTING.
What To Look For When Selecting A Hosting Service
– CDN (Content Delivery Network)
What the heck is a CDN?
First off, until recently I had no clue what a CDN was. But, when I started looking for better hosting I discovered exactly what it was and how it makes a website faster.
Here's the cliff-note version of what a CDN is:
A CDN makes a copy of your website at different hubs all around the world, so when people from different regions look at your content, it has less area to cover in order to be displayed on their device.
This increases your website load time significantly.
The Fasted Web Hosting Service
Let's get to the juice of this post.
So, who's the fastest?
WPXHosting.com (Affiliate Link)

WPX is the fastest WordPress host, with first-class support
-Matthew Woodward
(7-Figure Blogger)
Do your blog and visitors to your website a favor… Make it blazing fast with WPX.
Want Proof? Here's a Case Study by Matthew Woodward (award-winning blogger)
WPX Customer Support
Okay, I've got to mention this, because I've dealt with Godaddy for years and honestly, I had a good experience with them (shocker to some).
But, when switching to WPX I had several questions. I'm not a techy person when it comes to FTPs and Hosting IPs and a bunch of other jargon.
I needed help and I needed it quickly. As soon as my website migration happened, my professional email went down.
Don't ask me why. All I know is it had to do with DNS server something lol.
Anyway, WPX support was there to help me immediately and I was able to get my Email back online in just minutes.
Free SSL With WPX Hosting
Free Website Migration
WPX Will Fix Your Issues
World-Class Hosting Support 24/7
Wheeww!
Let's Break it down…
WPX Hosting
Pros and Cons
Pros
Blazing Fast Hosting

Malware removal

World Class Support

Fastest WP CDN

Free Website Migration

Free SSL Certificates Forever

No increase in price after renewal

Unlimited Email Addresses

Staging Area
Cons
The website interface could use some more feature and a facelift

Not as affordable as other low-end hosting (You get what you pay for)
Support is limited to Chat and Email (Very Fast Response Time)
Honorable Mention: SiteGround Hosting
When I first made the decision to get new hosting, I chose SiteGround because I thought WPX was a little spendy. THEN, I saw how much Siteground actually charges after their promotion period.
After their promotion period ends, the cost was basically the same as WPX Hosting.
So, I cancelled and refunded my SiteGround Hosting and switched to WPX.
In the 24 hours or so that my site was running on SiteGround, it was WAY Faster then Godaddy. So, I've got to give SiteGround Props for having fast hosting.
But, they're no WPX, that's for sure.
WPX Hosting – Summary
Overall Rating:
4.75 / 5
Quality
Speed
Cost
Conclusion:
In my experience, WPX not only makes your website faster than 98% of other sites, but, they have the BEST support in the business.
I give them a Five star rating and recommend it to anyone who's serious about taking their website to the next level.
Your Turn!
What hosting service do you use and what are your thoughts on WPX or other hosting services? Let us know in the comments.
All the best,
Nathan Lucas (Freedom Influencer)