The online environment is overpopulated with 1.74 billion websites. Millions of which look just like yours. Hundreds or maybe thousands of these probably sell the exact products. The road to number one in search engine results takes a savvy marketer and sharp tools of the trade.
Enter Ahrefs.
Search engine optimization tactics are honed with tools such as this powerhouse platform.
In this article, we discuss:
What Ahrefs is
It's key features
The Pros and Cons
The benefits of Ahrefs for large and small businesses
Is there an Ahrefs free trial?
Keep reading to discover how it can help you.
What is Ahrefs?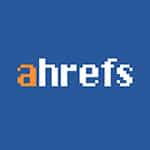 Ahrefs is a high-powered performance tool for improving search engine optimization. It's a one-stop-shop to evaluate your website, your competitor's website, keywords, and backlinks. Ahrefs derives its name from the HTML attribute that links text and graphical elements to other locations on the internet.
Ahrefs is commonly used as the first step in developing a marketing strategy or improving site bounce rates.
Key Features
Ahrefs is a common tool that replaces the need for several others such as a keyword researcher, a site auditor, a social mentions tool, and many more. It gives you an analysis of your site, keyword performance across platforms, up to date backlinks data, PPC data, and much more. With all that, Ahrefs provides detailed metrics, graphs, location specifics and more that you can download for further analysis.
We won't explore every nook and cranny of Ahrefs but here are some of their most valuable tools:
Site Explorer
Keyword Explorer
Content Explorer
SEO Site Audit
Rank Tracker
Site Explorer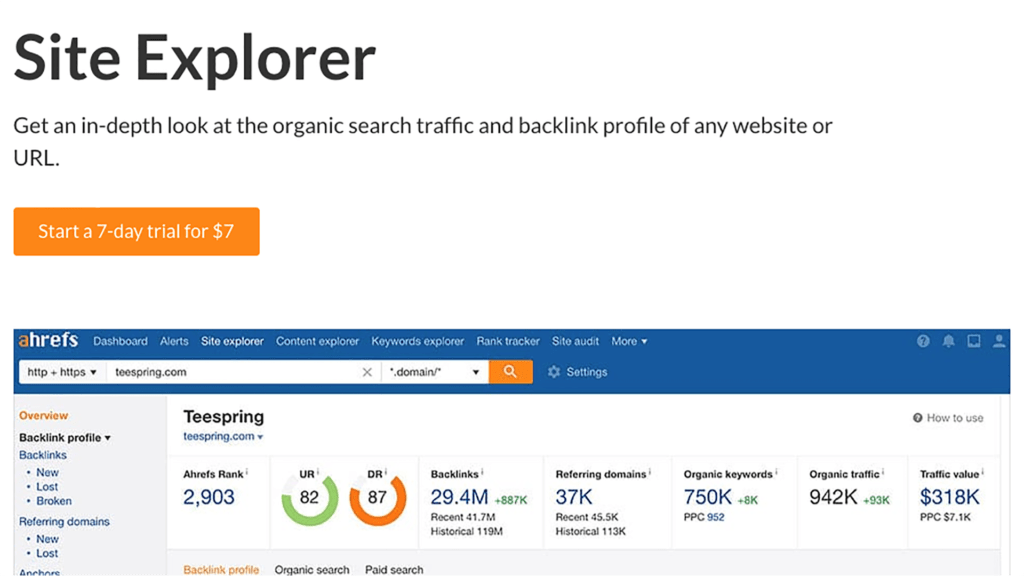 Using the Site explorer feature, you plug in a page of your competitor or a page of content and Ahrefs gives you an overview of how the site performs on organic keywords, organic traffic, and traffic value (PPC). Along the sidebar, you gain a more detailed perspective using the backlink profile, organic search information, paid search details and many other tools.
Site Explorer also contains a Content Gap feature. This unique aspect gives you a side by side comparison with your competition and shows which keywords they rank for that you are missing in your content.
Keyword Explorer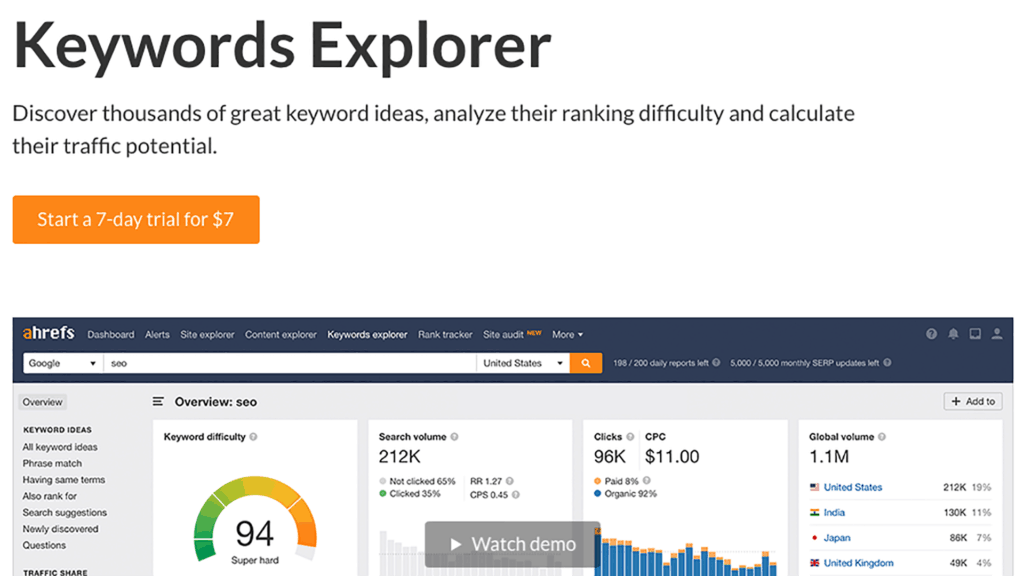 The Keywords explorer utilizes 10 major search engines to give you the most recent and relevant keyword data. From the Dashboard, you select the keyword explorer tab and are presented with a text box to enter the keywords you want to research.
Depending on your plan, you have a limited number of reports each day. You can enter as many as 10,000 keywords, separated by a line or comma, per search. This counts as one report. Ahrefs recommends searching several keywords at a time to avoid hitting your daily limit prematurely. When you do hit the limit, you'll simply be unable to perform more searches that day unless you upgrade your plan.
Content Explorer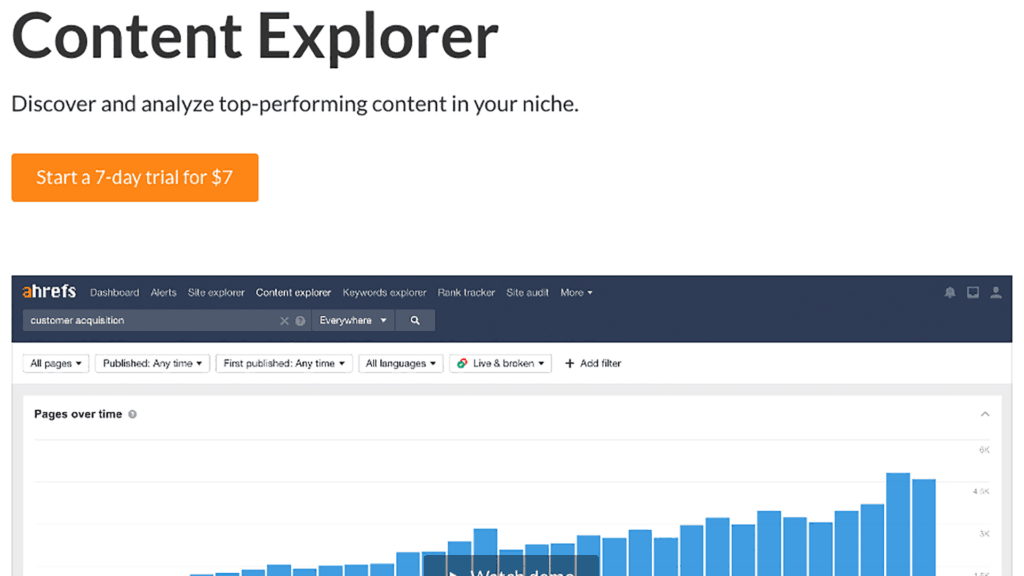 The Ahrefs Content explorer allows you to track the mentions of a word or phrase, such as your business, over time. This is similar to a formerly free tool offered by Google called Keyword Planner. It allows you to track the popularity of a word or phrase and use several filters to find the best results.
The popularity is shown as a bar graph over a timeline of hours, days, months, or years. For each spike in popularity, you can view the related content published by your competition and any social mentions at the time. Using the "site:" attribute before your entry, you can also search site-specific information about your competition. Track how often they post, their marketing and PR strategy over time, and their top-ranking content.
One of the best features of the Content explorer is the ability to track where a piece of content got the most social shares. This is a great way to learn where your audience is and how they are communicating.
SEO Site Audit
Whether you are accessing your own site or a client's, the site-auditor gives you page by page reports on the health of your site's SEO. When you first input your site's URL into the Site Auditor, you receive an overview that includes your health rating, the number of pages crawled, a series of graphs, and expandable reports.
Your site's health rating is the percentage of pages within your site that don't return errors. Ahrefs informs which page returns an error and the type of error i.e. loading, 'page not found', etc.
The reports along the sidebar peel back the top on your site to deliver suggestions on loading times, duplicate content, localization, which of your pages are indexable and way more.
You'll also notice the Site Auditor feature comes with its own tools: Page Explorer, Link Explorer, Structure Explorer
Each of these is designed to tell you which of your pages is attracting organic traffic, returning errors, or performing the best.
How often you use the site-auditor will depend on how often you upload new content and the size of your organization. Small businesses that upload frequently typically perform this audit every quarter. Large organizations may perform this audit two to four times a year.
Rank Tracker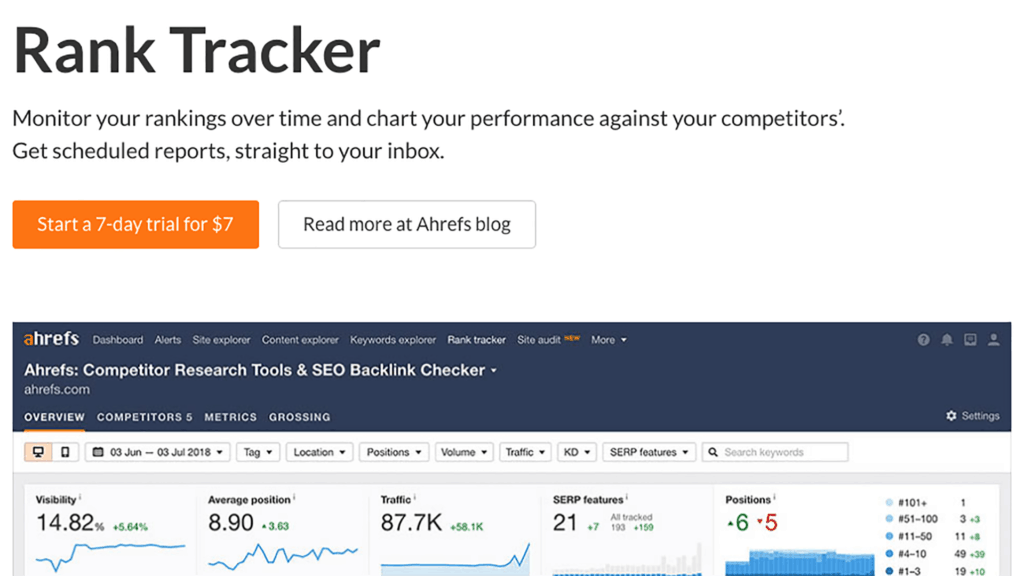 The Rank Tracker allows any business to follow specified keywords they rank for overtime. You can isolate information to a country or region, mobile or desktop device, even to blogs, landing pages, and many others. A vital part of the tracker is that you can simultaneously follow how your competitors are performing for the same keyword.
Ahrefs provides a top 10 list of other sites that rank for the keywords you're tracking. This is a great method for discovering new and unknown competitors in your niche.
Information is updated on a regular basis depending on your service plan. For example, Advanced and Agency users receive updates every three days. Standard users receive updates every 5 days. Lite users receive updates every week.
Who Ahrefs is for? (Pros and Cons)
Ahrefs is for everyone from freelance marketers or individuals managing their own sites to multi-million dollar enterprises. It's also for those who currently have several different software tools they use for SEO. Its key features allow a thorough look at your site data, backlink activities, and traffic generation tactics.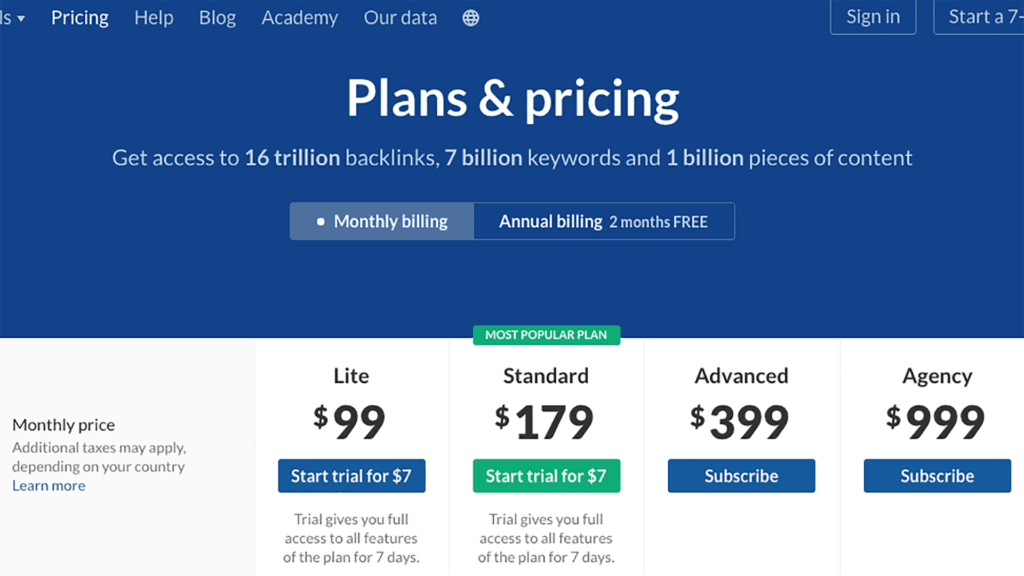 Ahrefs has a 4-tier plan structure:
Lite: $99/mo with a 7-day Ahrefs trial, intended for a single managing automatic updates for up to 5 websites
Standard: $179/mo with a 7-day Ahrefs trial, intended for a single user managing automatic updates for up to 10 websites
Advanced: $399/mo, intended for up to 3 users managing automatic updates for up to 25 sites
Agency: $999/mo, for 5+ users managing automatic updates for 100+ sites, extra users or data can be purchased if needed
We're hard-pressed to find many cons for Ahrefs' robust system of tools. Each step of the way, Ahref's makes it easy for you to understand the data you're looking at with popout menus and an online academy. But this learning curve may be difficult for some.
The real disadvantages may lie in your own needs. The price may be too steep for someone just starting out. Also, if you have a lot on your plate, discovering how to use a tool like Ahrefs could be better left to professionals.
For an organization, Ahrefs is a great tool for managing your own website in-house as well as multiple sites and client accounts. For smarketing strategies, a tool as robust as Ahrefs helps your sales and marketing team gain information from the same sources. This is a springboard to integrated services your clients won't forget.
How Ahrefs Helps You to Scale Your Business
One thing is for sure about Ahrefs: it can definitely help your business at any stage. The following are some ways that Ahrefs helps to grow your business.
Create Targeted Content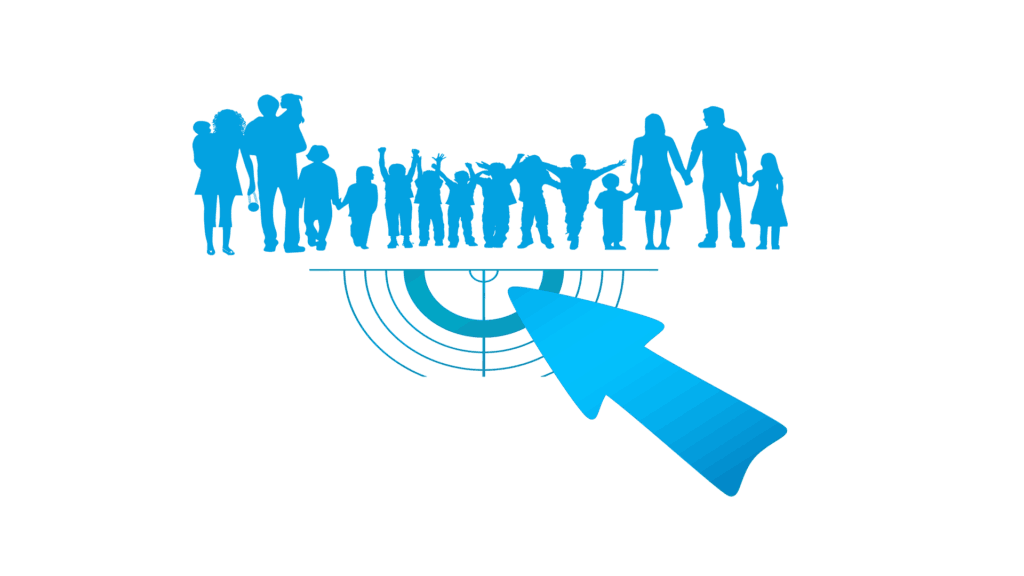 Keyword research is the hot-button term in the SEO world. But every diligent marketer knows that the right keyword is one that has low competition and that your audience is searching for. Whether your keyword strategy targets short or longtail, high volume or ultra-niche words, Ahrefs allows you to search specific sites for to find its ranking keywords or search specific keywords.
The ability to track specific words or mentions gives you the advantage of targeting potential customers in real-time.
Discover Why Your Competition has the Advantage
At every turn, Ahrefs provides you with information on how your competition is performing compared to you. The keyword, backlinks, and site explorer tools provide an in-depth perspective of your competition's marketing strategy over time.
An audit of your site can tell you why your customers are leaving at higher rates and heading over to your competitor. Ahrefs offers specific data reports as well as suggestions for overcoming business hurdles within the platform or in their blog content.
Discover Where Your Gaps Are
The countless reports and indexed data provide the user with a comprehensive look at where they fall short. Under the Site Explorer sidebar, Ahrefs provides a content gap analysis tool. Simply enter your URL and the URL of 3 to 10 of your competitors. This will compare where your competitors rank on keywords that you don't. It will also include where you are positioned in the top 100 search results and identify other businesses in your industry.
Manage Your Backlink Strategy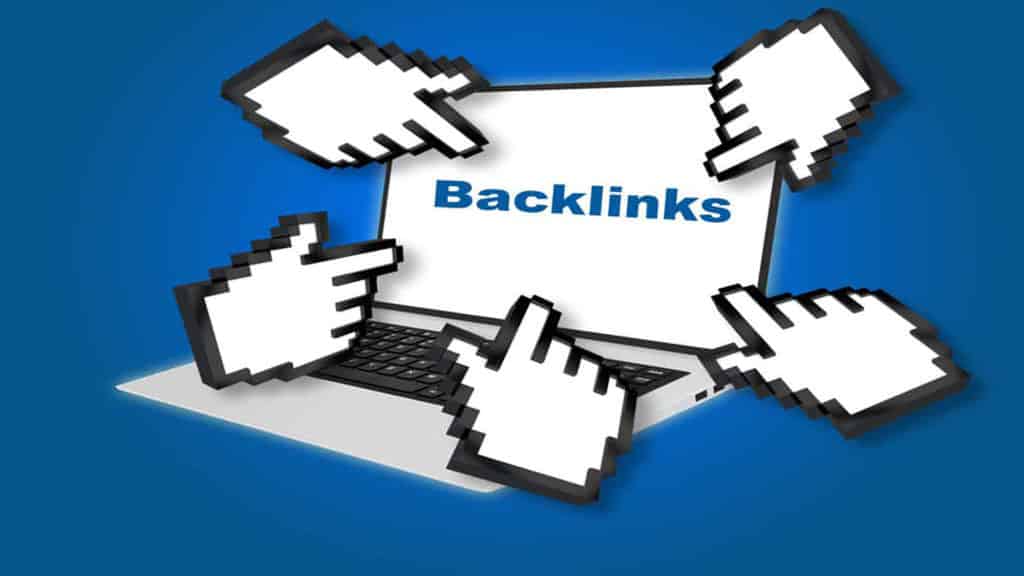 Backlinks are the number of sites that have links pointing back to your site. This raises your domain authority, depending on the quality of the link, and improves your ranking in search engine results.
With Ahrefs, you can see in real-time, all the links you've acquired and which are no longer working. Savvy marketers can also evaluate their competition's backlinks and use those same sources to build their backlinks.
Is there an Ahrefs Free Trial?
No, there is no Ahrefs free trial. They explain more why they don't offer free trials here.
What they do offer is a $7 paid trial with the lite and standard plans. That's $7 for 7 days of ninja-level SEO tools. Also, if you decide on annual billing, you save 20% off of the monthly price. This technically gives you 2 months free over the regular billing.
Although not as awesome as 'free', $7 is still within everyone's budget. This is also an incentive to take purchasing a tool like Ahrefs more seriously.
There is a lot to learn within every feature. Luckily, Ahrefs has an academy portion of their site that provides you with actionable, easy-to-grasp steps.
Also, within every report, graph, and tool, there are question mark icons explaining the feature.
To get the most out of your trial you should:
Know what you're looking for from Ahrefs
Be familiar with the importance of keyword research and common SEO terms
Have a business or website already in place
Each of the above factors will help you use your seven days most efficiently. Try out the tools you will need most often to ensure you get the best value. Also, take the site-auditor for a spin to see how you stand up against your competition and discover more ways that the Ahrefs platform can improve your business.
Is It Worth It?
Although there is no Ahrefs free trial, you may find it's still worth the investment. This is especially apparent if you have a hobbled-together collection of tools that cost the same but lack integration. Within each feature provided by the platform, there are further analysis tools to refine your results to those most valuable for your business or clients.
The state of online business and communication necessitates tactics that give you an edge over the competition. Gain more traffic by learning the difference between SEO and SEM here.