In 2019, the total e-commerce sales were $601.7 billion, a 14.9% increase from 2019. Businesses are embracing digital marketing, as more consumers are shopping online. With the growing competition in online spaces, business owners are prioritizing Search Engine Optimization and Search Engine Marketing. SEO and SEM can be confusing. Most people use the terms interchangeably, which makes the difference between SEO and SEM hard to comprehend.
While the two words have their similarities, they have stack differences separating them.
If you want to grow your business on online platforms, understanding the difference between SEO and SEM is crucial.
Keep reading to know how these search marketing elements work in your affiliate marketing.
What Is SEO?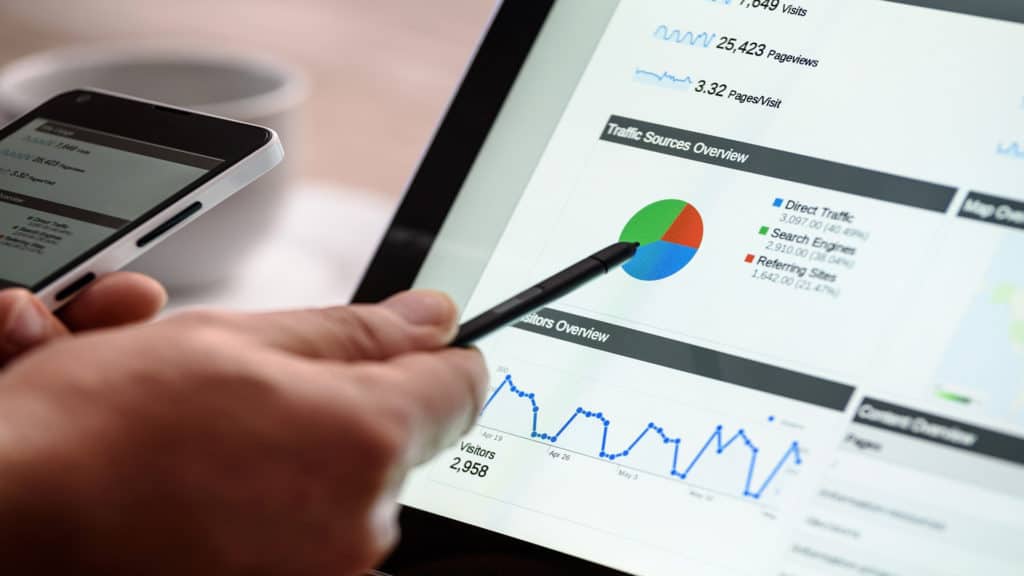 SEO stands for Search Engine Optimization, which involves the optimization of content to be discoverable on the organic results of a search engine.
Google is one of the most popular search engines. It considers several factors to determine the pages that will rank on top.
Google's algorithms keep changing, which has prompted evolutions in the SEO industry.
However, the three buckets making up SEO are ever constant. These dimensions include on-page SEO, off-page SEO, and technical SEO.
On-page SEO refers to the optimization of web pages. It includes tactics like;
Use of descriptive and short URLs
Utilization of particular keywords into heading tags, meta descriptions, and title tags, among others
Readable content
Incorporation of Google authorship
Integrating social sharing in your content
Off-page SEO refers to the activities done outside a website to improve its ranking.
Some of the off-page tactics that you can consider include:
Getting positive reviews
Citations building
Obtaining backlinks from authoritative websites
Earning brand mentions
Technical SEO, on the other hand, focuses on technical changes that help search engines index, crawl, and rank content in an effective way.
Technical optimization involves:
Non Indexing content
Use of canonical tags
Improvement of page speed
Use of hreflang tags
What Is SEM?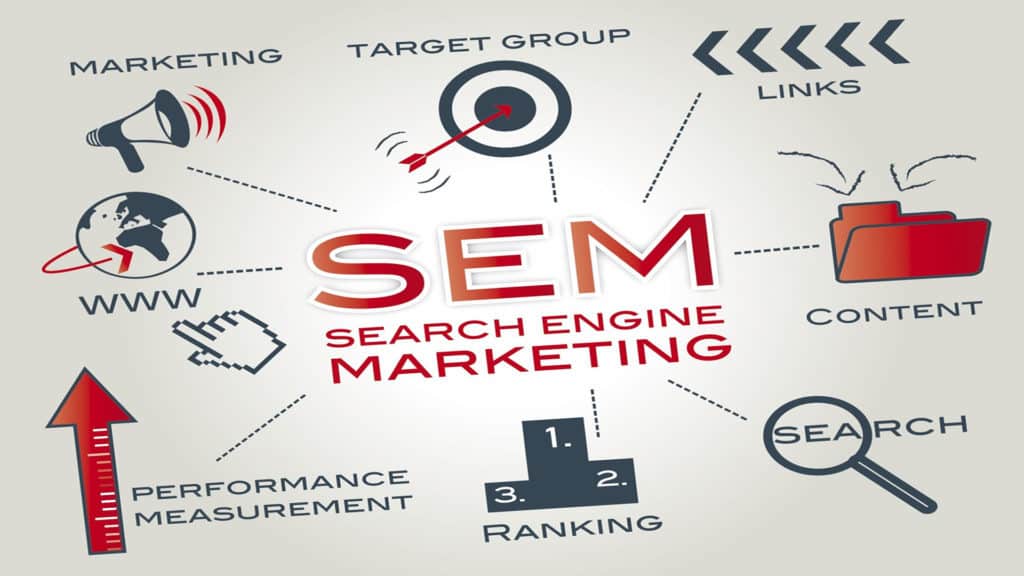 SEM, which is Search Engine Marketing, refers to a marketing tactic in which a marketer advertises and optimizes a website to rank high in search results.
SEM is a form of internet marketing that will increase the visibility of your site.
SEO is one of the SEM's tactics.
For your SEM to be successful, there are some key strategies to consider.
Launching ad campaigns that have a specific audience is one of the approaches that would be critical to SEM. Another strategy would involve creating ad groups with keyword variations.
Monitoring metrics such as impressions, clicks, and cost-per-click is another great SEM approach.
You might also need a precise ad budget.
The Difference Between SEO and SEM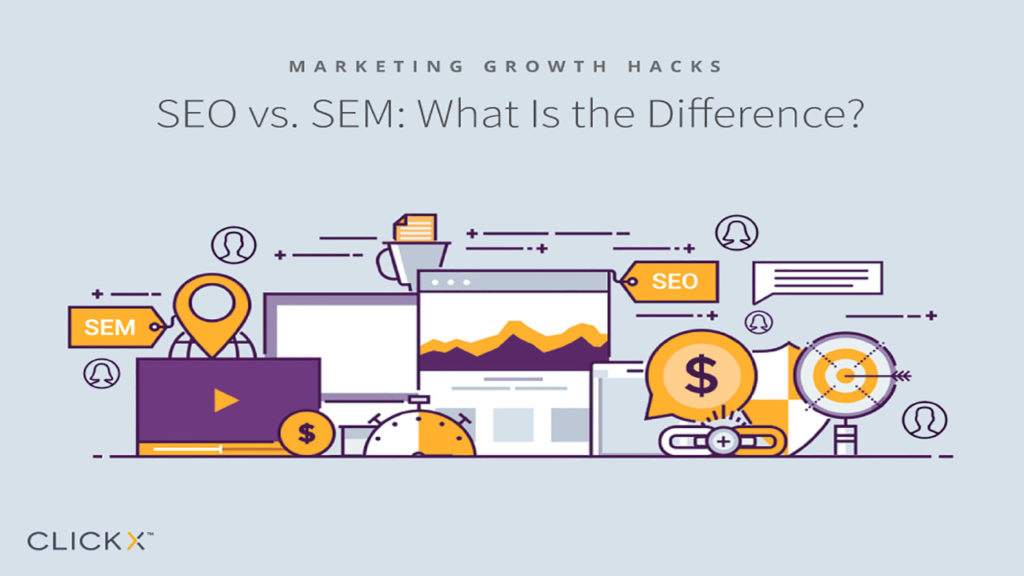 While SEO and SEM have similarities that prompt people to use them interchangeably, they have several differences.
1. Target Audience
SEM results have a select target, while SEO results don't have a target audience.
Successful SEM and SEO strategies aim at connecting to an audience that would be interested in what a business offers. However, you can only decide on the type of audience through SEM.
With SEM, you can select your audience by using filters based on the geographical location, age, income, occupation, and other relevant habits.
Conversely, SEO doesn't give you the option of choosing your target audience, although you can work on content with specific target in mind.
If you're hoping to enhance your affiliate marketing income, knowing how to appeal to your target audience through SEM can do wonders. SEM can help you focus on an audience that has an interest in the product you're selling.
2. Placement of Search Results
SEM results on a search page have an 'Ad' designation, which is absent in SEO.
SEM results are usually paid ads, which have an icon next to the result showing that it's an ad. On the other hand, SEO results don't have such marks as the results are solely organic.
While SEM results contain ad extensions, featured snippets are what characterize SEO search results. SEM ad extensions include callouts, phone numbers, and additional links.
SEM aims at influencing the audience to act.
3. Response Time
The response in SEM is somehow immediate, while in SEO, you have to be patient.
With paid SEM ads, your target audience can get results within a few clicks.
Your ad will be visible on search engine result pages once you launch the campaign.
You need time to acquire SEO.
After implementing an SEO strategy, your brand might even take months to rank on the chosen search engines. It would help to combine other approaches such as YouTube video marketing for improved lead generation.
4. Payment
In SEM, a marketer has to pay for clicks on the SEM results. However, SEO doesn't necessitate any fee when one views the results.
SEM is a form of marketing that requires a budget for it to be sustainable. It's a type of pay-per-click lead generation.
As an online marketer, you need to know what action you want from your audience to establish whether you need SEM or SEO.
With the latter, you won't pay for clicks.
5. Value Addition
If you want an approach that adds value to your digital marketing, SEO won't disappoint. While it might take time to pay off, its gradual growth leaves lasting results.
The SEO strategy is somehow sustainable as it grows over time.
When you start a blog, you can take advantage of SEO to grow gradually.
You can build an audience over time and sell your brand while at it.
Ultimately, people will be looking forward to interacting with your brand based on the value they are getting from your content.
On the other hand, SEM is useful as long as you're paying for the results. Turning off the ad nullifies the SEM strategy.
As such, you need a constant injection of finances for your SEM to remain relevant.
6. Testing
If you want a strategy that tests results, SEM is the way to go.
With SEM, you can turn ads on or off, which is a great way to test the strategy.
Depending on the results of the advertisements, you can revise the copy, change the content of your landing page, and retarget.
The flexibility that comes with SEM paid ads allows you to see how your strategies are performing. Consequently, you can change or sharpen your tactics to be in line with the results.
Conversely, SEO doesn't give you this luxury. Monitoring the results and making changes in SEO isn't seamless.
7. Click-Through-Rate
Search results have 85% of clicks, while 15% of the clicks are on ads.
Organic search results appearing on the first page have high traffic. Therefore, SEO encourages more click-through than SEM.
Most consumers hardly consider clicking ads when searching for specific information.
If you want to outperform SEM with your SEO strategy, consider optimizing your website to rank on top. Appearing on the second or other lower pages of the results in SEO reduces the clicks, which makes SEM to have more clicks.
Factors to Consider When Choosing SEM vs. SEO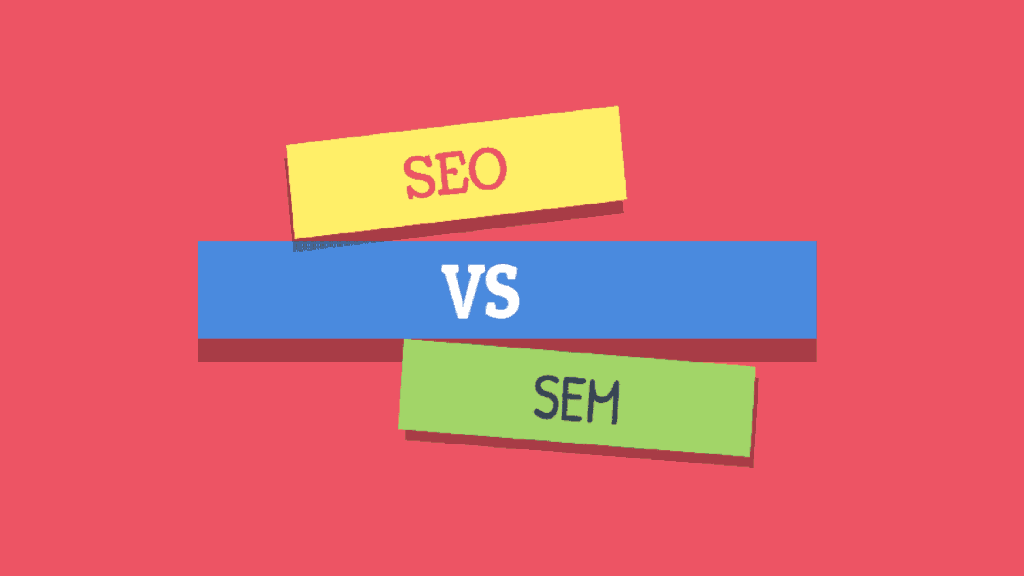 After identifying the difference between SEO and SEM, choosing what is right for you is much easier.
Here are some of the factors that you need to consider.
1. Your Industry
When doing your market research, you can know what your customers want. Resultantly, you'll understand how you can reach them effectively.
An SEO strategy is the best option if you want a long-term engagement that will prove valuable.
At times, marketers are not sure of how their content or offerings will fair in a potential market. An SEM campaign can be a great option in such a situation.
This marketing approach is a great way to test your products, services, or ideas.
2. Competition
The number of websites in the world is more than 966 million.
The competition in online spaces is extreme. For you to remain visible, you have to think deeply about optimization and exceptional marketing.
Before you settle for SEO or SEM, it would help to consider your competitors and their performance in search marketing.
You might want to research further on terms that your competitors are using to rank organically.
Once you know the approach your competitors have taken, it will be easier to strategize on how to be on top of SERP placements.
Checking out the keywords your competitors are using to increase traffic to their websites will also help you to position your brand.
If you realize a gap in organic or paid search, you can take advantage to outshine your competitors.
3. How Old Is Your Business?
The age of your business determines the search marketing approach that would work for you.
If you're starting an online business from scratch, the chances are that your website is quite new. Developing your SEO and appearing on organic search results might not be forthcoming as fast as you'd want.
As you build your SEO strategy, investing in SEM can have positive impacts on your brand.
If you check out the fundamentals of growing a 6-figure business online, building an audience ranks first.
The concept applies when you're considering search marketing.
You should focus on a strategy that enables you to get an audience that has a keen interest in your offerings.
4. Customer Buying Cycle
Your products or services should guide you in the choice of marketing search.
Some products have a relatively shorter customer buying cycle. That means your customers know exactly what they want, so they just search and buy it.
SEM ads can prove fruitful when the customer cycle is short. This strategy ensures that your brand is visible to prospective customers.
With longer buying cycles, SEM might not perform well as buyers might take even months making product comparisons.
5. Budgetary Consideration
The digital ads takes 54.2% of the total fiscal allocation on advertisements.
When you decide to have an online business, be ready to spend some bucks to increase your visibility.
The primary difference between SEO and SEM is on paid results.
If the average cost-per-click is beyond your budget, SEM might not work for you.
With the evident competition in online spaces, a low cost-per-click will not give you the visibility you desire.
On the other hand, a high CPC might constrain your returns.
In such instances, focusing on SEO can work for you. However, you might need to wait a little longer to enjoy the fruits of this approach.
SEO and SEM are Complementary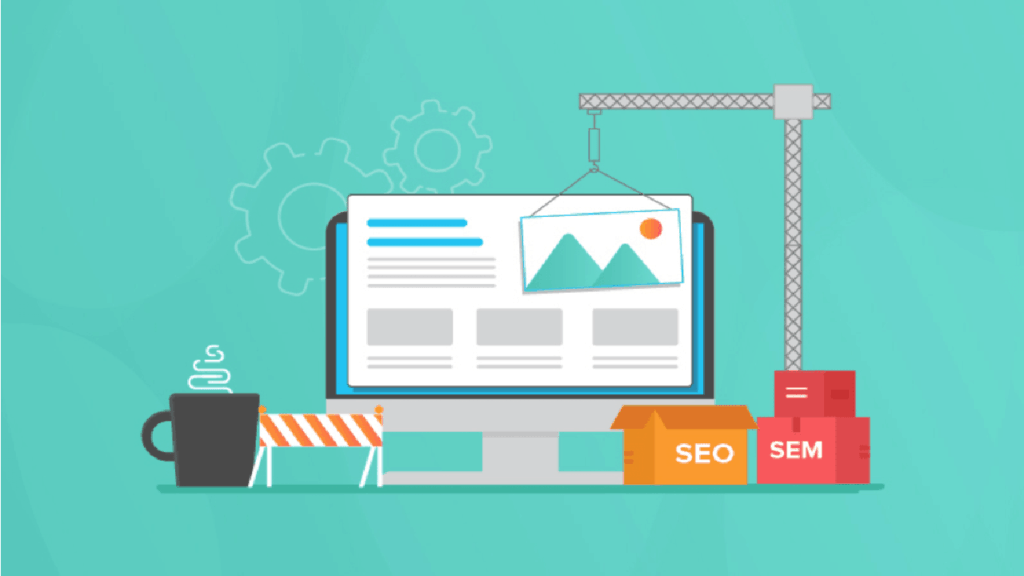 While the differences between SEO and SEM are crystal clear, you don't have to sacrifice one over the other. It's like trying to choose oranges over apples when you can enjoy the two.
The goals and functions of SEO and SEM in digital marketing are entirely different.
Arguably, you might want to invest equally in both SEO and SEM for your online business to pay well.
The goals of your online marketing campaign can be a significant determinant of where to start. Yet, it is crucial to note that none is superior to the other.
You can choose to start with SEM for instant actions. Your SEM campaigns make your ad visible to people using your keywords.
For a new business, this is probably a shot worth trying.
With time, consider SEO, which is more of a long-term approach to digital marketing. It might take a month for your SEO to show significant results.
Keep reminding yourself that Rome wasn't built in a day.
The Difference Between SEO and SEM Offers Excellent Guidance When Starting Your Online Business.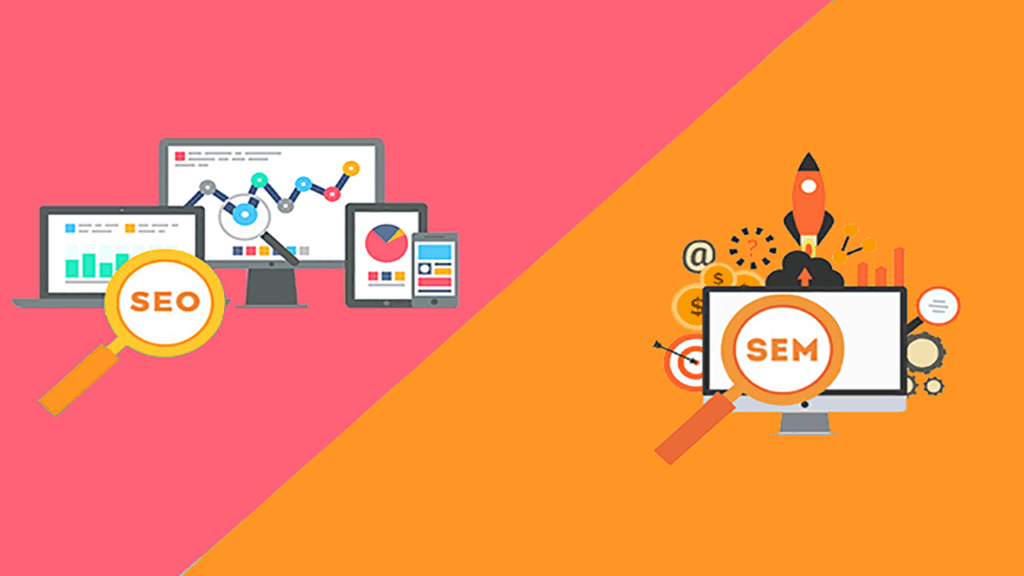 SEM and SEO play different roles in digital advertising.
Once you understand the difference between SEO and SEM, you'll realize that you don't have to choose either. You can have them both and enjoy the benefits of each search marketing strategy.
If at all you have to choose either SEO or SEM, your marketing needs should be the ultimate guide.
Nonetheless, you might want to consider combining them for a robust advertising experience.
Consult with the professionals in the industry to know how to apply these marketing elements.
Are you new in online marketing? Alternatively, do you want to expand your online business? Learn more here for exceptional guidance in digital marketing.